Re-imagining the Workplace with Rooms
Member News
With all of us reviewing office layout and spacing in the Covid 19 era, Connection have redesigned their product, Rooms, to further define space and create workplace flexibility. Rooms is truly a transformative piece of architecture. Available in an infinite number of configurations to meet any requirement or demand it is the internal meeting pod for any office space.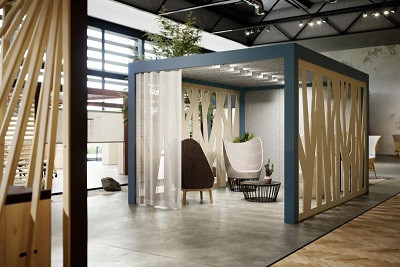 Rooms was created with flexibility and sustainability in mind. As Rooms is freestanding, with no fixed walls, this allows complete reconfigurations in your workplace environment. It can easily be disassembled and repositioned whenever, wherever necessary, prolonging it's product life. Available in multiple sizes and with the option for adjoining Rooms, it can be built perfectly to fit in any office space.
The true beauty of Rooms however, are the endless number of configurations available, with customisation from top to bottom and everything in between. It's bespoke nature means you choose what your room is to be, whether informal reading, enclosed office or boardroom. Rooms has solutions to aid visual and acoustic privacy, however it remains light and airy due to the option of ceiling baffles (which are too made of material to provide acoustic benefits).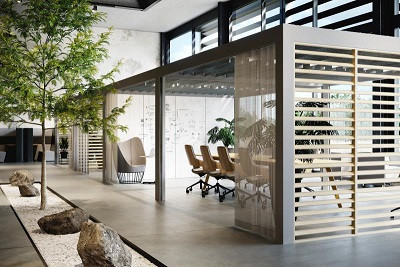 The frame structure is aluminium, but can be made with oak, OSB or birch veneers. There's also the option to choose over 200 coloured claddings from either Fenix or Egger ranges. However, it is the choice of wall's which really defines Rooms. There is the option of mixing the 15 wall possibilities, to truly make the space your own design. To retain workplace flexibility and develop a relaxed working environment, wooden trellis walls, curtain, interactive whiteboards are amongst the wall options for enhancing co-working. Though, Rooms can also be configured for the more formal space with glass or upholstered walls for a calm, private setting.
To access the full features, please do visit https://connection.uk.com/product/rooms/